Dorsay Alavi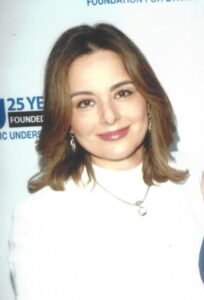 Dorsay Alavi is the Co-Founder of BLAST MOTION PICTURES, a film and television production company that specializes in independently produced feature films, television series, documentaries and commercials. BLAST MP produces original content, provides seed funding for development as well as production/post-production oversight and support for creative partners.
Dorsay Alavi was born in Tehran, Iran and immigrated to the United States at the age of 2. Movies and television were her first teachers of the English language. Her passion for cinema began as early as the age of 6 and her unwavering love for motion pictures led to her pursuit of a filmmaking career. After graduating from UCSD film school, she moved to Los Angeles to pursue a directing career and where she met her mentor David Lynch who offered to Executive Produce her first screenplay. Her career began as a music video and commercial director and later as a screenwriter/director and producer of feature films, television and documentaries.
Dorsay has written, produced and directed feature films, television and documentaries for over 25 years. She and her husband and producing partner, Matthew Flint opened their production company Brave World Pictures in 2010.
The current slate of BLAST MP projects in development are a sci-fi episodic television series, "The Ravens" and a limited series, "FREE". Our current project that is set for release in 2022 is a three part documentary film series entitled "Zero Gravity" on legendary jazz musician Wayne Shorter – Directed by Dorsay Alavi, Produced by Dorsay Alavi and Matthew Flint and Executive Produced by Carlos Santana, Brad Pitt, Jeremy Kleiner and Dede Gardner of Plan B.
Dorsay lives in Pasadena, California with her husband and business partner Matthew Flint, her daughter Caspian and their Yorkshire terrier, Finch.